Tuesday, January 24, 2006
Update Notices
Question: How come you do not send update email notices anymore?

Answer: Starting from version 4.0., if an internet connection is available, Quick Pallet Maker will check our servers to see if there is a newer version available. If so, a small window will appear indicating the new version. This is much better than adding to the current email congestion and less work for all parties. Just make sure that you have downloaded at least version 4.0 to be in the loop.

Quick Pallet Maker 4.0.2 Ready
Announcement:
Quick Pallet Maker 4.0.2 available for download. This new update improves the Container Fill feature and overall calculations. For a list of improvements and bug fixes, please click
here
. To download this version, please click
here
Sunday, January 22, 2006
Chinese Version Doesn't Look Well
Question: I am using the Chinese Simplified version of Quick Pallet Maker and the characters do not appear in all of the windows. What can I do?

Answer: If you had been using a non-Chinese font prior to the use of Quick Pallet Maker or if the System font is a non-Chinese font, then you need to change the QPM font to a Chinese font. To do this, run QPM and open a new window starting from Primary Package, select a Chinese font from the Edit menu and then quit QPM. Once you run QPM again, you should see all the characters correctly.

Container Not In The List
Question:
How come the list of containers does not include the 40' High Cube container?
Answer:
When we set up the defaults, we used the first containers that would come to mind. However, it is very easy to add more types and/or edit the ones that already exist. To add a new container, open the Standard Cases and Pallets window and choose one from the list. Then, use the "Duplicate" command from the Edit menu to create a replica at the bottom of the list. To edit any of the container dimensions or the container name, double-click the appropriate cell and change the values. For an example, see the bottom screenshot.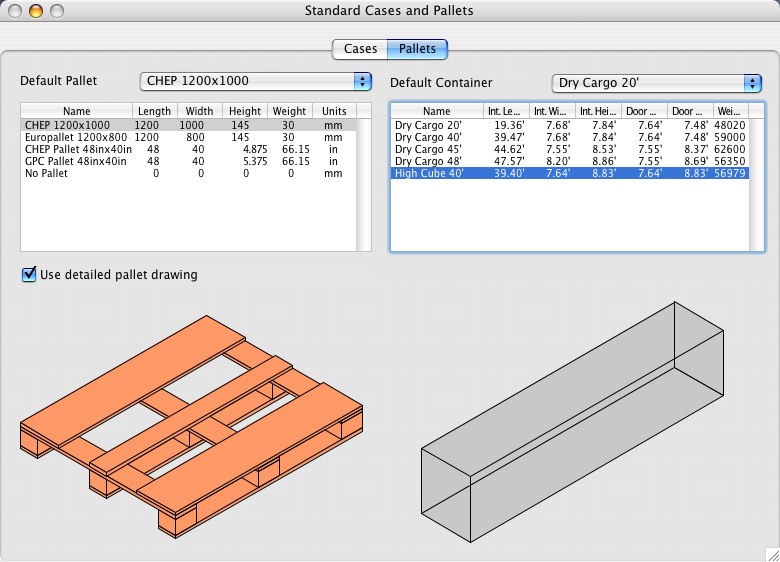 Thursday, January 19, 2006
Big XML Files
Question:
The container XML files that are produced by Quick Pallet Maker sometimes take up too much disk space. What can I do if I want to send it to someone, for example?
Answer:
In some cases, there are containers that can have a large amount of boxes or pallets. Each box and pallet is represented by it's own branch in the XML tree of the container file. However, since the files are text files, they can be easily compressed in the .zip format with the utilities that are available in Windows XP and in the Mac OSX operating systems. For people using older OSes, you can download
WinZip
for Windows or use Stuffit, which is included in Mac OS. Compression is very effective. For example, a 12.8MB container file can be compressed to 108KB (easily emailed).
Friday, January 06, 2006
Differences Between Windows and Mac Versions
Question:
Are there any differences between the Windows and Mac OSX versions of Quick Pallet Maker?
Answer:
No. Both versions work exactly the same, even if the appearance is somewhat different due to the operating systems. The registration numbers also work the same, so if you buy a license for Windows and then change to a Mac, or vice-versa, your license number will work (just remember to uninstall QPM from the previous machine). However, since QuickTime is included with Mac OSX and not necessarily included in your Windows PC, it is important to download it from the
Apple website.
Thursday, January 05, 2006
"Demo" or "Purchase"?
Question: I already paid for the application. However, when I install it in Windows, the installation program asks me if I want to run it as a Demo or if I want to purchase it. What should I do?

Answer: Click "Demo". If you have paid for the application and registered it correctly, Quick Pallet Maker should be able to recognize your registration information and run normally. If you want to purchase another license, you can click on "Purchase".

Tuesday, January 03, 2006
Container Movie Export Is Slow
Question:
How come the Container Movie export process is unbearably slow? I am using Windows XP and it says that the application (Quick Pallet Maker) does not respond.
Answer:
The real answer to this question is that the container movie export code was copied from the pallet movie export code. Although the speed is OK for pallets with not so many boxes, it
really
slows down when exporting container movies with more than a thousand boxes, for example. This is because each frame has the size of the drawing and there are more than a thousand frames. If you were exporting a container full of pallets, it would be faster. Anyhow, although Windows is telling you that the application does not respond, you can wait it out to get your movie. Just make sure that you have installed
Apple QuickTime
.
Since we don't want to waste your time, we just wrote a different method for exporting movies that is much faster. We will include it in Quick Pallet Maker 4.0.2, which is our next update. For those of you who can't wait, you can download the English version for Windows
here
and for Mac OSX
here
.
Sunday, January 01, 2006
Graphics Won't Appear In Web Browser
Question:
When I export from the web browser, the graphics in the previewed web page do not appear at all.
Answer:
Please check if Apple QuickTime has been installed. If not, you can download it for free (no ads, spyware, etc.) at the Apple
web site
. QuickTime is needed also for exporting pallet, container and box movies and for exporting different graphic formats.
Quick Pallet Maker Won't Print
Question: When I try to print a pallet, Quick Pallet Maker takes me to the second tab of the detailed report and does nothing.

Answer: This happens when are trying to print from the Results or Available Solutions window (the one with the long list of pallets at the bottom) and the page orientation in the Page Setup is "Portrait" instead of "Landscape". In this case, QPM takes you to the second tab of the Detailed Report from which you can print the pallet report through your web browser. If you had selected "Landscape" in the Page Setup, you could have printed from the Results window through the first tab of the Detailed Report.

Why Doesn't QPM Save After Registering?
Question:
I bought the application and registered it correctly. However, once I try to save files, the commands are still greyed out.
Answer:
This is one of the most frequently asked questions among new users. The reason for this is that not necessarily, all data can be saved from all windows due to how the software was designed. For example, you cannot export box or pallets from the Container Fill window because they have either already been imported from an existant file or their dimensions have been entered manually and we considered that it was more practical to save the data in a text file or spreadsheet and import it like in the
following example
. In this specific case, we will continue to listen to our customers' requests and add this feature in an upcoming update.
The types of files that can be exported from the other windows are the following:
Input Window
: From this window, you can save the input data (.qpm file) which includes the primary package information and box and pallet settings.
Results Window (Available Solutions):
From this window, you can save the input data, boxes and pallets. The latter can be saved individually using the "Save Report" command from the File menu or in a group of pallets by selecting more than one and then choosing "Save Solutions..." to select a folder into which the files will be saved.
Detailed Report:
You can save the pallet file here, too.
Happy New Year!!
For those of you that celebrate it, us at Koona Software hope that the year 2006 will bring you happiness and fulfillment. Our best wishes to our software users and visitors.

Subscribe to Posts [Atom]